We are currently accepting staffs (volunteer) who support the management and activities of Toride Art Project !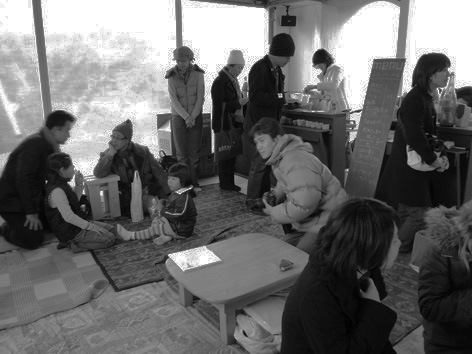 (cafe Harappa no Ie @ 2007)
We have the meeting for recruiting new volunteer staffs.
Date : Saturday, September 27th, 2008 14:00〜
Place : Ino Artist Village studio 101
15min walk from JR Toride Stn. East EXIT.
* Go straight up Geidai St.
* Walk straight for about 10 min
* You'll pass the steep hill. Then turn left at the second corner.(There's a Police box)
* If you walk straight you surely arrives at the center of Ino apartment complex.
  * It might be better if you could phone the office  
  Toride Art Project office
  2-3-16 Shinmachi,Toride,Ibaraki 302-0024 Japan
  Tel+Fax: +81-(0)297-72-0177
  tap-info@ima.fa.geidai.ac.jp
      Office Hours : 1 pm to 5 pm
      * Open on Tuseday and Friday
      * Occasionally Open on Saturday, Sunday and Holiday
Do you ・・・
◎Have a green thumb ( Are you a gardener )?
◎Have any Seeds, Seedlings and Saplings?
(Especially, something to eat is welcomed. )
Let's make edible urban party jungle studio (free food forest foundation) with Namaiki !
Do you ・・・
◎Know the history of Toride city well ?
◎Love watching a play ? (Drama, Performance, theatre and so on.)
◎Have a skill of design, sound techniques or camera techniques ?
Let's join PortB project staff !
PortB investigates Urban Legends around Toride Ino apartment complex.
Are you ・・・
◎good at cooking ?
◎a talkative person ?
◎interested in cafe ?
Please support the management of our cafe produced by Mikangumi !